OUR CUSTOMERS EXPERIENCES
Trust Pilot Reviews
We take pride in our customer service at VS Group, check out what our lovely customers had to say about us!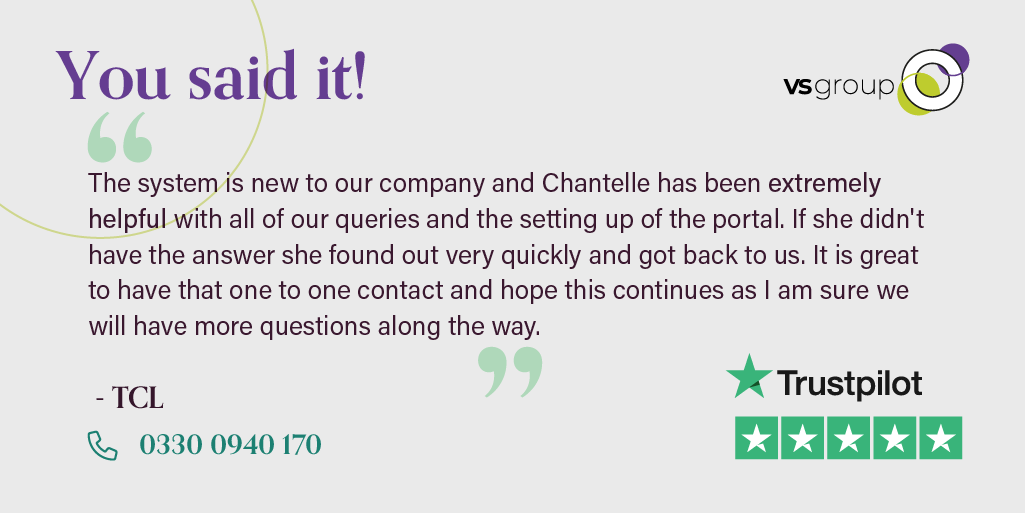 CUSTOMER SERVICE
Ongoing support
We understand that issues with communication or your telephony solution can have a significant impact on your organisation. That's why our dedicated customer service representatives will provide you with the support when you need it. Our industry-leading SLAs are designed around the requirements of your business, resolving issues as quickly as possible with regular communication from us.
Passionate, dedicated and committed customer service is at the very core of our business, and we're always ready to go above and beyond.
Contact our customer service team:

Contact number: 0330 0940 170

 Opening hours: Monday – Friday 9 am to 5 pm
The benefits of VS Group account management:

We are award-winning providers of telecommunications to the charity and business sectors.

We don't like to speak jargon. We make our communication as easy as possible to ensure complete transparency.

Throughout our journey together, we will recommend ways of improving the solution to drive forward further cost savings and efficiencies.
ACCOUNT MANAGEMENT
Our core focus
We like to make our customers feel valued and supported, and that's why you will have a single point of contact here at VS Group. From the moment you come on board with us, you have a dedicated account manager that will take great pride in building a close working relationship with you.
Our highly knowledgeable and skilled team have years of experience in the telecoms industry. They are passionate about ensuring that you have the very best experience possible. Happy customers are important to us at VS Group. We focus on ensuring that you're satisfied with your setup and service at each stage of our journey together.
PROJECT MANAGEMENT
Your Account Is in Safe Hands
We are a nationwide telecommunications provider that is fully supported by our award-winning UK based support team. We will regularly liaise with you to ensure that your project is on the right track heading towards completion from the outset. Post-project, we have a dedicated team of account managers to support you throughout your journey with us. They will ensure that your solution continues to help you run the organisation most efficiently.
The benefits of VS Group project management:

  Our working processes are tried and tested,
verified by ISO 9001 accreditation.

  You will receive regular contact from our provisioning,
customer service and account management team

  The support on offer is built into our solution offering,
so there are no hidden fees to get the care your project needs.